Early Childhood BA online
credits  32 credits (minimum) | cost/credit  $310 | completion  2 years or less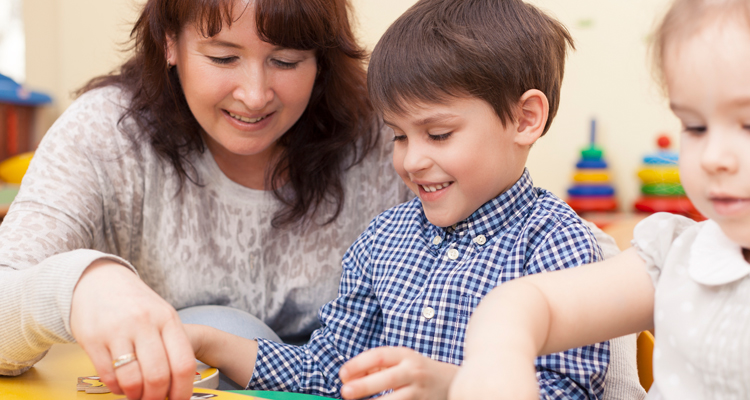 Prepare for career opportunities in early childhood settings by completing your bachelor's degree online. Through Northwestern's Bachelors of Arts in Early Childhood (BA EC) program, you will gain knowledge in child development, assessment, behavior, and current policy to create meaningful learning experiences for every young child.
Your program will qualify you for early childhood education roles (including paraprofessional and lead teacher positions) in a variety of settings, including:
Head Start programs
Daycare centers
Infant/toddler and preschool programs
Before- and after-school early childhood programs (birth through age 8)
Education agencies (AEA's, IAEYC)
Teaching children is rewarding work in itself, but educators with an early childhood degree are also highlyemployable. Research confirms that teachers with more education offer higher quality programs with more positive child outcomes. Northwestern's affordable bachelor's degree program will provide opportunities for employment, job changes and promotion.
Incoming students must have an associate's degree (AA or AS) in early childhood or related area and may easily transfer previously earned credits toward their early childhood bachelor's degree. The online BA EC program does not lead to a teaching license. You may be eligible for partial to full tuition coverage by federal and state scholarship programs.
Program Requirements
Bachelor in early childhood students will complete the early childhood core courses (32 credits) and meet requirements for Northwestern's undergraduate education core either by transfer of equivalent course credits from another institution or taken online during the Northwestern BA EC program. Practicum experience and clinical practice are tailored to your schedule and some may be completed in your own early childhood workplace.
Early Childhood Core Courses (32 credits):
> ECE305 -Child Observation and Assessment                                                                         
> ECE310 -Resiliency and Wellness for Educators                                                                     
> ECE320 -Positive Behavioral Support for Young Children                                                   
> ECE330 -Supporting Language and Literacy Development in Preschool                       
> ECE400 -Supporting Dual Language Learners                                                                         
> ECE420 -Engaging Interactions and Environments                                                               
> ECE425 -Children's Health and Well-Being                                                                              
> ECE430 -Learning with Digital Media in Early Childhood     
General Education Core Courses (33-39  credits):
Accepted as transfer credits or taken online at Northwestern
Online students may have already completed the majority of general education course requirements. A Northwestern enrollment counselor is ready to evaluate your transcripts to show your remaining courses. Contact an enrollment counselor.
Our Early Childhood B.A. curriculum was developed in concert with the Professional Preparation Standards of the National Association for the Education of Young Children (NAEYC) and Northwestern College is fully accredited by the Council for the Accreditation of Educator Preparation (CAEP).                                    
Financial Aid
T.E.A.C.H. Early Childhood Scholarship
Educators pursuing a bachelor's in early childhood may be eligible for a T.E.A.C.H. Early Childhood Iowa Scholarship. The scholarship program works to provide the early childhood workforce educational opportunities. The majority of your bachelor's degree could be funded through this program. For information or to apply, visit the  T.E.A.C.H. website. 
Child Care WAGE$ Program
Child Care WAGE$ ® IOWA (WAGE$) is a salary supplement program offered by Iowa Association for the Education of Young Children (AEYC). As with T.E.A.C.H. IOWA, WAGE$ is a licensed program of Child Care Services Association. WAGE$ offers salary supplements (also called stipends) to the early care and education workforce, based on the individual's level of formal education and commitment to their program. With a bachelor's degree in early childhood you may qualify for a higher WAGE$ level ($2900 annually compared to $1800 with an associate's degree). For more information visit the  WAGE$ website.