Kinesiology faculty
Dan Swier, M.S.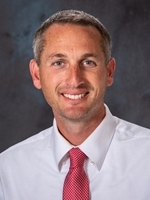 Lecturer in Kinesiology
Head Men's Soccer Coach
M.S., University of Texas at Arlington
B.A., Northwestern College
712-707-7279
dswier@nwciowa.edu
RSC 133

Profile
After earning his bachelor's degree in exercise science from Northwestern College, Dan Swier went on to earn a master's degree in exercise physiology from the University of Texas at Arlington. In 2009 he coached for the Creighton Soccer Academy, one of the premier soccer camps in the Midwest. In 2011 he co-founded the Northwest Iowa Soccer League while serving as director of coaching for the Orange City Recreational Soccer Program.
---