Called to care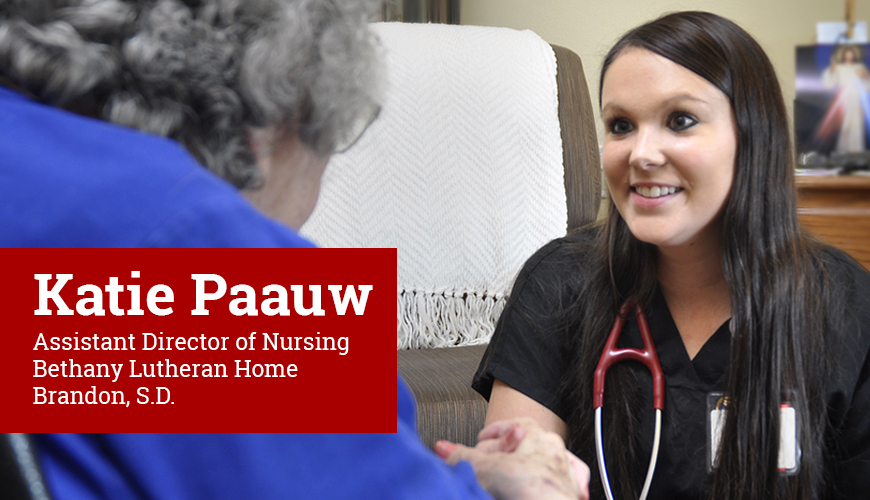 "Whatever you do, work at it with all your heart, as working for the LORD, not for human masters" 
— Colossians 3:23
---
How did you choose a nursing career, and why did you decide to earn your BSN degree in an online program?
I have a passion for caring for others, and I dreamed of being a NICU nurse growing up. But after working in long-term care as a CNA, I found an outlet for my passion in caring for people who are elderly. My mom is also a nurse, and has been in administrative roles for most of her nursing career. After finding my career passion in elder care, I have a goal of becoming a Director of Nursing just like my mom. And I feel like it's an important first step to continue my education and earn my BSN in order to achieve that goal.  
What have you appreciated most about Northwestern's RN to BSN program?
I learned through researching online nursing programs that Northwestern's is one of the best! The instructors and advisers want the best for you and are willing to help in any way they can. I've never hesitated to ask a question or ask for help. You don't get that level of support at every college. Also, I appreciate the integration of faith in my nursing classes. As a Christian and as a nurse, my faith is a big reason why I do what I do every day.
How was the transition to being an online student for you?
After being out of college for a few years, it was a challenge to transition back into online classes. I'm thankful I chose Northwestern because the enrollment counselors and professors have really helped me through that transition—they guided me every step of the way. Now that I'm in the program, it's challenging at times to balance work, family, classes and the rest of life. Prioritization and time management are very important, and I've learned to just keep my focus on the goals I want to achieve.
What advice do you have for others considering earning a BSN online?
You can do it! No doubt it will be challenging at times, but stay focused on your goals and remember to take time for yourself too. A verse that gives me courage and reminds me of my greater purpose is Jeremiah 29:11,
"For I know the plans I have for you," declares the LORD, "plans to prosper you and not to harm you, plans to give you hope and a future."