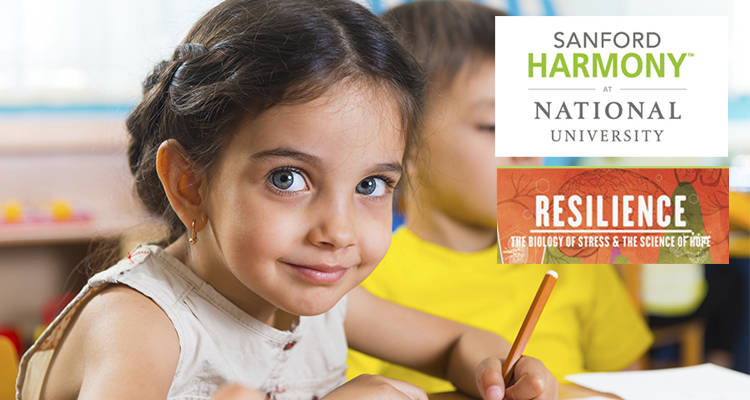 Creating a Positive Classroom: Pre-K through 6th grade

Tuesday, October 24 | 8:30 a.m. - 4:30 p.m.

FREE ATTENDANCE | Credit Available: License Renewal $95 or Graduate $150
Sanford Harmony Training  
Sponsored by National University Sanford Education Programs
The morning session will include hands-on training with Sanford Harmony, a research-based, highly effective teaching strategy that strengthens classroom communities by helping each child understand and appreciate diversity in others. By breaking down barriers, Sanford Harmony enables students to connect and collaborate at much deeper levels. Early adopters have indicated that children feel more comfortable and connected in their classrooms, leading to more harmonious interactions and improved academic achievement. For more information about the program visit the  Sanford Harmony website.
TRAIN-THE-TRAINERS – By attending this training, teachers, counselors and school personnel will be equipped with the information, strategies, and resources to facilitate Harmony training and coaching at their own schools or district.This model builds leadership and district-wide support for your Harmony implementation. 
Resilience Watch & Talk
The afternoon session will include the free screening and discussion of  Resilience: The Biology of Stress & the Science of Hope . The original research was controversial, but the findings revealed the most important public health findings of a generation.  Resilience is a 1-hour documentary that delves into the science of Adverse Childhood Experiences (ACEs) and the birth of a new movement to treat and prevent toxic stress. Now understood to be one of the leading causes of everything from heart disease and cancer to substance abuse and depression, extremely stressful experiences in childhood can alter brain development and have lifelong effects on health and behavior. 

Continuing Education Credit Available
Earn 1 graduate ($150) or license renewal ($95) credit.

Training & Workshop Schedule
8:00 – 8:30 am

Check-In 

8:30 – Noon

Harmony Training
Annie Middlemist, Sanford Harmony trainer   



Noon – 1:00 pm

Lunch Provided 
Presentation speaker 



1:00 pm – 4:30 pm

Resilience Watch & Talk 
Lori Hayungs