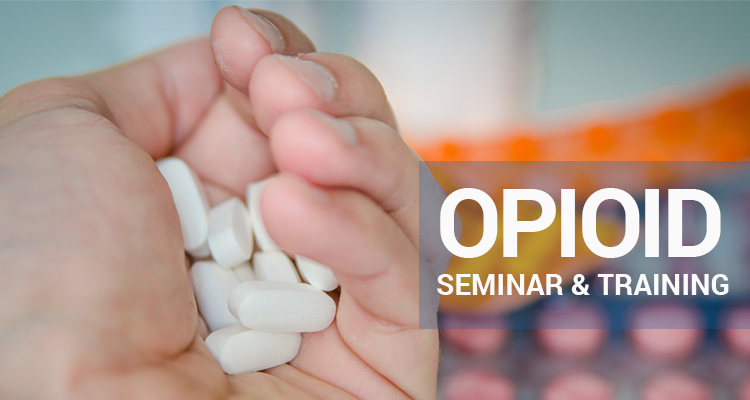 OPIOID 
Informational Seminar & Training
Offered by Compass Pointe Behavioral Health Services  

Monday, March 19 | 1 p.m. - 5:00 p.m. 
Vogel Community Room (second floor of the DeWitt Learning Commons)
Northwestern College   
Get Directions |  Campus Map 

Cost: $20
Includes .4 CEUs for nurses and 4 CEHs for EMTs. 

Registration is closed

The Epidemic | Options for Treatment | A Personal Recovery Journey 
Experts will share best practices for addressing the opioid crisis, treatment and recovery. Attendees will gain valuable knowledge regarding the scope of the opioid crisis on a county, state, and national level as well as a better understanding of effective treatments. In addition, attendees will hear a personal story regarding the road to recovery and the role we all can play in making it a road to success for those who are on their journey.

Who Should Attend
Interested community members, pharmacists, physicians, nurses, mental and behavioral health professionals, dentists, law enforcement, public health professionals, social workers, coalitions, school nurses, teachers, principals and superintendents, human resource staff, college students and interested stakeholders.                   

Continuing Education Credit Available
.4 CEUs for nurses and 4 CEHs for EMTs
NARCAN® Certification
Certificates of completion for continuing education provided for all attendees including social workers and direct caregivers for submission to your licensing organization. 

Speakers

Monica L. Wilke-Brown LMSW, IDPH 
Director of Iowa Opioid State Targeted Response Project
Monica will provide an overview of the opioid crisis on a county, state, and national level. She will share Iowa data on opioid-related issues and current best practices suggested and used by the state of Iowa. She will also provide information regarding the administration of NARCAN® (naloxone HCl) for emergency treatment of a known or suspected opioid overdose. 
David G. Wolff, MD, FAAFP, FASAM
Floyd Valley Regional Hospital
Dr. Wolff will share his expertise regarding treatment options including MAT (medically assisted treatment) for opioid addictions) including Buprenorphine, Methadone, and Naltrexone.
John Martini  
John will share a personal journey through recovery.

Schedule
12:15 – 1:00 pm


Check-In 
Hidden in Plain Dight Display open


1:00 pm


Cheryl Buntsma
Welcome and Introductions

1:15 – 2:00 pm

Monica Wilke-Brown  
Opioid Prevalence and Best Practices 

2:00 pm – 2:45 pm

Dr. G. Wolff  
Opioid Use Disorder

2:45 – 3:00 pm

Break        

3:00 – 3:45 pm

Dr. G. Wolff  
Medical Assistant Treatment

3:45 – 4:15 pm


John Martini
A Personal Recovery Journey

4:15 – 4:45 pm

Monica L. Wilke-Brown

4:45 – 5:00 pm


Cheryl Buntsma
State and local efforts, PMP, Repository Program and PDTB

5:00 – 5:30 pm

Hidden in Plain Dight Display open