NWC named among nation's best colleges
Aug 24, 2015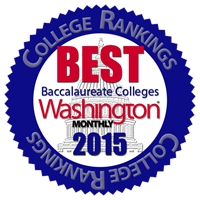 Northwestern College has been ranked seventh among the nation's top baccalaureate colleges by Washington Monthly. The magazine's rankings, released today (Aug. 24), are based on how well the schools contribute to the public good in the areas of social mobility, civic engagement and service.
Northwestern has been ranked in Washington Monthly's top 10 nationally since the magazine began ranking baccalaureate colleges in 2010. Northwestern has also been the highest ranked Iowa college in any category each year.
The rankings, at http://bit.ly/collegeguide2015, list Elizabeth City State University of North Carolina first, followed by Tuskegee University of Alabama. In addition to Northwestern College, other baccalaureate institutions in Washington Monthly's top 20 include Augustana College of South Dakota, 13th; Taylor University, 17th; and Loras College, 18th.
"We are pleased to once again be recognized among the nation's best by Washington Monthly," says Greg Christy, Northwestern College's president. "This is a credit to our faculty and staff, and to the strong academic programs we have that prepare students exceptionally well for graduate school and for impacting the world through serving others."
Washington Monthly's rankings seek to measure how effectively colleges serve their students and, ultimately, the country. An article on its website says, "We rank colleges on three measures that would make the whole system better, if only schools would compete on them. The first is upward mobility: Are schools enrolling and graduating students of modest means and charging them a reasonable price? The second is research: Are they preparing undergraduates to earn PhDs, and creating the new technologies and ideas that will drive economic growth and advance human knowledge? The third is service: Are schools encouraging their students to give back to the country by joining the military or the Peace Corps, or at least letting them use their work-study money to do community service?"
Northwestern is ranked fifth in community service participation, relative to the size of the school, and ninth in the category of support for community service. Northwestern is 17th in the number of graduates who have gone on to earn doctorates and 19th in the number of alumni serving in the Peace Corps.
Northwestern College is a Christian college of more than 1,200 students in Orange City, Iowa, committed to developing students' minds and empowering their faith as they prepare to lead in the world.