Hoey to present research at conference
Jul 17, 2015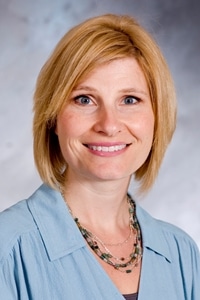 Dr. Rebecca Hoey, director of Northwestern College's Graduate School & Adult Learning, will co-present a workshop at a conference hosted by the Christian Adult Higher Education Association in Minneapolis July 28 through 31.
Hoey and Dr. Fawn McCracken of Crown College, St. Bonifacius, Minn., will present "Impact of the Administrator and Administrative Structure on Online Programs." They will share the results of research they conducted to determine the relative efficacy of different online education administrative models in place at Council of Christian Colleges and Universities (CCCU) institutions.
Because most online programs develop organically according to institutions' unique faculty, traditions and cultures, often distance education programs and enrollment recruitment efforts are in place ahead of carefully planned administrative structures.
Hoey and McCracken will share data that can help institutions like those that belong to the CCCU determine the best way to structure the administration of online programs to achieve successful outcomes—outcomes such as growth in enrollment and in the number of online programs offered, as well as efficient operation of online programs in the areas of academic program development and delivery and student services.
As Northwestern's online education administrator, Hoey oversees development of the college's graduate degrees and other programs for adult learners. Northwestern currently offers two master's degrees in education, a graduate certificate in the management of international development, an R.N. to B.S.N. degree-completion option, and several education endorsements. For more information about Northwestern's online graduate degrees and adult learning programs, visit online.nwciowa.edu.