Interested in Genetics and Genomics certification, but not quite sure?
Share your email to learn about breast cancer and genetic testing.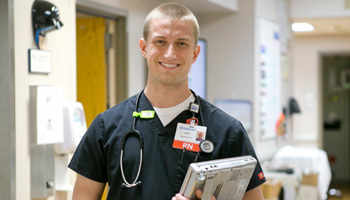 Training that matches new technologies
If your healthcare education didn't cover much about genetics or genomics, you're not alone. Our 1-year online graduate certificate in genetics and genomics is designed for working healthcare professionals (nurses, therapists, pharmacists, etc.) who want to better understand, communicate and apply the amazing advances of genetics and genomics to provide more precise, more personal medicine. You'll be better equipped to help your patients make sense of genetic testing, genomic medicine, pharmacogenetics and other new technologies based on the ability to sequence and interpret large amounts of individual genetic information. 
Genetic expert
Genetics and genomics program director Dr. Sara Tolsma's efforts in cancer genetics and cell biology have been widely published in scientific journals and received a number of awards. Tolsma holds a doctorate in microbiology, immunology and virology from Chicago's Northwestern University. She has been part of several symposia on bioethical issues surrounding genetic technologies, such as stem cells, cloning and genetic testing. The 2015 recipient of Northwestern College's Teaching Excellence Award, Tolsma also is a full professor in the college's biology department.